Finally a cool-ish, slightly overcast day. With a little stretch of the imagination, it feels like Fall in Central Texas. What could be better to usher in autumn than cool-weather Swiss chard, quinoa and Pure Luck feta?
Ingredients
3/4 cup quinoa
1 large bunch Swiss chard, 6 or 8 cups
1 large onion, diced
3 or 4 garlic cloves, minced
2 tablespoons extra-virgin olive oil
1/2 lemon
1/2 cup golden raisins (optional)
1/2 cup Pure Luck feta
Freshly ground pepper
1. Rinse, soak, cook quinoa according to package directions. Use lemon juice as part of the liquid.
2. Soak raisins in water to re-hydrate.
3. Strip tough stems out of chard. Rinse well. Slice into ribbons.
4. Sautee' onions in olive oil until they start to caramelize. Add and sautee' garlic.
5. When onions and garlic are tan and very aromatic, add Swiss chard. Sautee' until wilted. Cover with a lid and let steam until tender. (To use the stems, rinse, chop and sautee' in the onions until they are tender before adding the chard leaves.)
6. Add raisins. Stir in quinoa. Season with freshly ground pepper. Garnish with plenty of feta. Serve warm.
You've heard the saying, "crisis is opportunity blowing on a dangerous wind?" We had a feta crisis last week.
Whole Foods ran out of the French sheep milk feta that is our mainstay. Distribution problem. No idea when the next shipment would arrive.
Oh. My. God. Catastrophe!
On the shelf where we usually find our preference, Whole Foods was offering Pure Luck goat feta.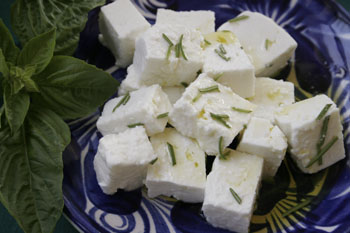 Operated since 1983, this locally-owned
farm and dairy
has an extraordinary
selection of artisanal cheeses
. Award-winning even.
"Okay. I'll try it," I grumbled. (Hey. I like what I like.)
At $19.99 a pound, it's a bit spendy for my budget, but Pure Luck feta is an absolutely lovely goat cheese. A Greek-style cheese, aged, sharp, clean, semi-soft and salty, it
made
this dish.
Welcome back, Autumn. Thanks
Pure Luck
. Our luck to discover you!
Bon appetit.