Truth be told, I never met a potato I didn't like, but this preparation exceeds all expectations. Delish!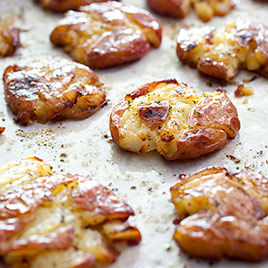 Smashed Potatoes at America's Test Kitchen
Ingredients
12 to 15 small new potatoes - red or yellow, preferably about the same size
Kosher salt
Extra-virgin olive oil
Rosemary, thyme, fresh ground pepper, Cajun seasoning - your choice
Preparation
1. Parboil the potatoes in water until fork tender, about 20 minutes.
2. Drain the water and let potatoes dry on a kitchen towel for a few minutes.
3. Cover a baking pan in aluminum foil. Drizzle with olive oil.
4. Put the potatoes in the pan with plenty of elbow room. Use a potato masher, a spatula or cover with a towel and use your hand to flatten the potato to about 1/2 inch high. (It's okay if they fall apart; they're still yummy.)
5. Brush the tops generously with olive oil. Add seasoning.
6. Bake at 400 degrees for 25 to 30 minutes or until crispy and deep brown around the edges. You can turn them over once during the baking though it's not necessary. Be gentle.
Serve hot.
Chef's note
: You can boil the potatoes ahead, prep for baking and hold in the refrigerator to feed a crowd. Hint: Super Bowl!
~Adapted from numerous sources but
America's Test Kitchen
has the most novel approach.