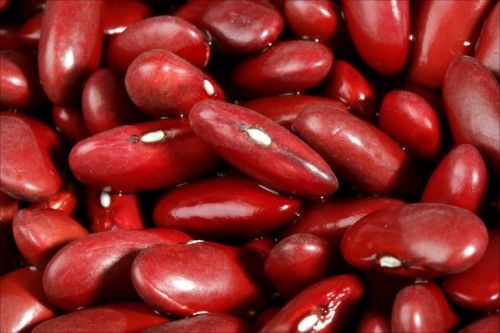 Good food doesn't stop in Cajun country just because the party's over. Cajun cooks start red beans in the morning, cook it low and slow all day and serve it for supper with a dish of rice and a dash of Tabasco. It is a perfect dish for a slow cooker.
Ingredients
2 tablespoons olive oil or vegetable oil
1 pound of dried kidney beans
4 garlic cloves, minced
1 large yellow onion, diced
1 green bell pepper, diced
3 celery stalks, diced (1 cup)
1 can of stewed tomatoes (14.5 ounces)
2 - 4 cups of vegetable broth
2 - 3 teaspoons Creole seasoning
2 teaspoons ground thyme
2 Bay leaves
Steamed rice for serving
Italian parsley for garnish
Tabasco sauce
Preparation
1. Rinse and sort kidney beans; soak while you're preparing the vegetables.
2. In a medium pot over medium-high heat, saute' onion in olive oil until it starts to tan. Add garlic, saute' a few minutes more. Add celery and pepper; saute' until well glazed.
3. Transfer kidney beans and sauteed' vegetables to slow-cooker. Add 2 cups of broth.
4. Cook covered on high for 4 hours or low for 8 hours, stirring periodically. Add more broth if the mixture starts to dry out before the beans soften. Remove the cover for the last hour of cooking. Adjust seasoning to taste.
Red beans are done when the broth has evaporated and the beans have started breaking down into a creamy sauce.
Serve over rice. Garnish with minced Italian parsley. Pass the hot sauce to taste.
Chef's Note
: If you use canned beans, don't soak them and reduce your cooking time by at least half. A ham hock or andouille sausage imparts a richer, smokier flavor. I've omitted the meat for Lent. Freeze left-overs in 1 pint bags to keep on hand for a quick lunch or supper. They are both delicious and nutritious.
Source of Protein
Rice and beans have long been dietary partners because both are incomplete proteins. This means each lacks at least one of the nine essential amino acids needed by the human body to produce protein. Together, however, rice and beans make up a complete protein, combining to deliver all the amino acids when eaten in a meal.
Red beans are rich in iron, which is important to produce red blood cells that carry oxygen to our muscles, internal organs and brain, according to the Vegetarian Society. The society advises vegetable sources of iron are less easily absorbed than animal sources, but you can aid your iron absorption by ensuring an adequate vitamin C intake.
According to the United States Department of Agriculture nutrition guide on kidney beans, just one-half cup of cooked red beans provides you with 32 percent of your daily-recommended intake of fiber. Fiber found in whole grains such as rice and beans, along with a healthy diet, can help you reduce your risk of coronary heart disease, as well as reduce constipation and help with weight management.
B VitaminsThe USDA also notes that in eating refined grains like white rice you can gain the benefits of enrichment with B vitamins. These vitamins include thiamin, riboflavin, niacin and folate -- all of which play a role in regulating your metabolism, helping your body release the energy stored in protein, fat and carbohydrates. B vitamins help your nervous system stay healthy, too. Switch to brown rice instead of white and you'll get fewer B vitamins but an extra boost of heart-healthy whole grains.